Thames Valley Police Training Tower
Thames Valley Police collaborates with Triple E Ltd to develop cutting-edge climb and rescue tower.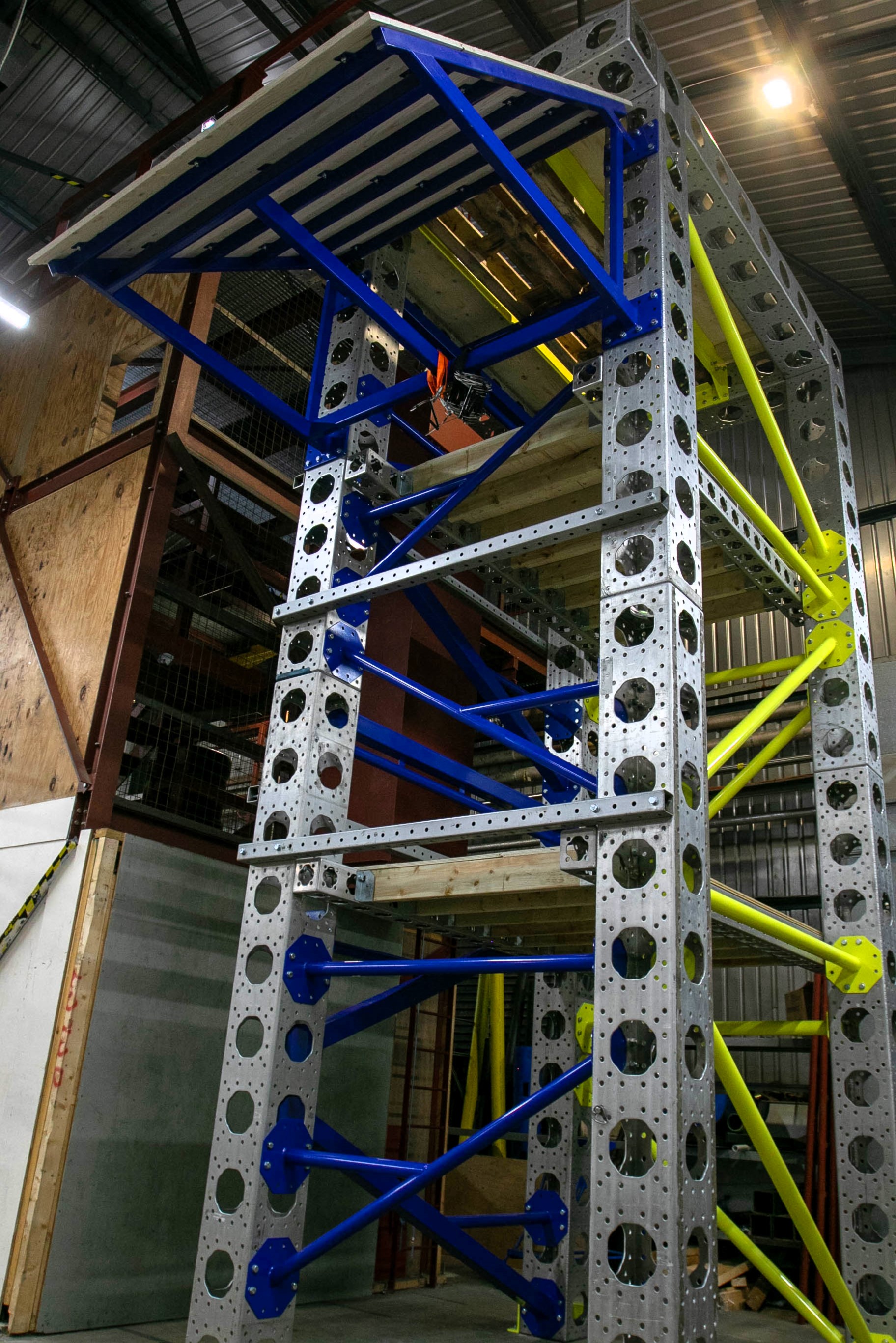 Thames Valley Police Public order unit were faced with a seemingly impossible task. To teach officers a more advanced climbing skill set using a truly future proof structure whilst reducing the apparatus footprint and increasing the throughput of recruits. 
The Thames Valley Police Joint Operations Unit public order training centre is renowned for providing exceptional working at height skills training for police officers.
The existing training tower built of steel and mesh is a fixed structure with limited adaptability and had reached it's modification limit. The growing scale of the challenges officers face in the field when working in challenging conditions at height require a more dynamic solution which could be continually adapted to reflect the ever evolving real world challenge. Our objective was to create a sophisticated training environment that mimics the real life challenges encountered by officers and that could be easily reconfigured prior to training, preventing repetitive muscle memory by allowing for constant layout changes. We also set out to increase the capacity of recruits being trained simultaneously whilst reducing the physical footprint taken up by the training solution.
Triple E worked closely with training officers Phil Hewitt and Tim Preen to design a customised tower using the innovative ModTruss™ system that offered all the features they needed. The final tower design provides a versatile training space that accommodates various climbing techniques and innovations. Using simple design and structural concepts we have provided a tower that incorporates many aspects into the design including:
Aid climbing

Fall arrest

Work restraint

Work positioning

Rope access

Flat roof safety systems

Remote removal/rescue

Snatch removal/rescue
This system can be dynamically reconfigured during advanced training sessions. For instance, trainees can practice beam removal, centre of gravity evaluation and practical rigging skills using lifting equipment and tools.
We supplied three types of bracing - two with a load capacity of 12 kN to allow for fall arrest that can be moved around the structure at will; one fabricated from CHS that is compatible with MGO-scaffolding hooks and one that is fabricated from SHS that is designed specifically to challenge operational thinking and skills by denying the use of scaffolding hooks directly, requiring alternative solutions like strops and sling connections. The third type of bracing was structural and powder coated another colour to differentiate it from the fall arrest bracing and should not be moved.
At the request of Phil and Tim, the tower also allows for the inclusion of Petzl Coeurs anchors in suitable areas.
The tower's internal floors are re-configurable, allowing for the creation of a four level structure or a spacious internal area for a 20 ft rope access introduction and skills development zone. Re-belay and rope divert training can be facilitated through diversions across internal spaces, enabling users to ascend and descend through hatches and between joists and other obstructions. The presence of a casualty further adds complexity to the training scenarios.
The tower features a pitched roof attachment with a 40-degree incline, similar to the average roof pitch in the UK. This provides a safe training environment for edge management, edge protection and edge transition training. Moreover, a full or half internal floor can be attached to the roof, creating a confined space at height for challenging access and subject removal scenarios.
The tower design ensures a small footprint within the training facility while offering immense innovation, expanding the possibilities and depth of current and future training programs.
Phil Hewitt said, "Our students are really tested to the limits with this new tower and it's really promoted a lot of new ways of thinking. With the old tower we could only teach fall arrest on one face which meant we could only train one person at a time and this slowed the course right down. We can now climb a structure and teach at the same time.
The new tower has given us the flexibility to change training environment easily in order to suit the skill level and requirements of different courses and students. It prevents complacency as there are so many different options the student really has to think about placement of protection and the forces applied to that protection."