The Portable Performance Venue design and build
Triple E creates a modern touring performance venue that travels 800 miles a year.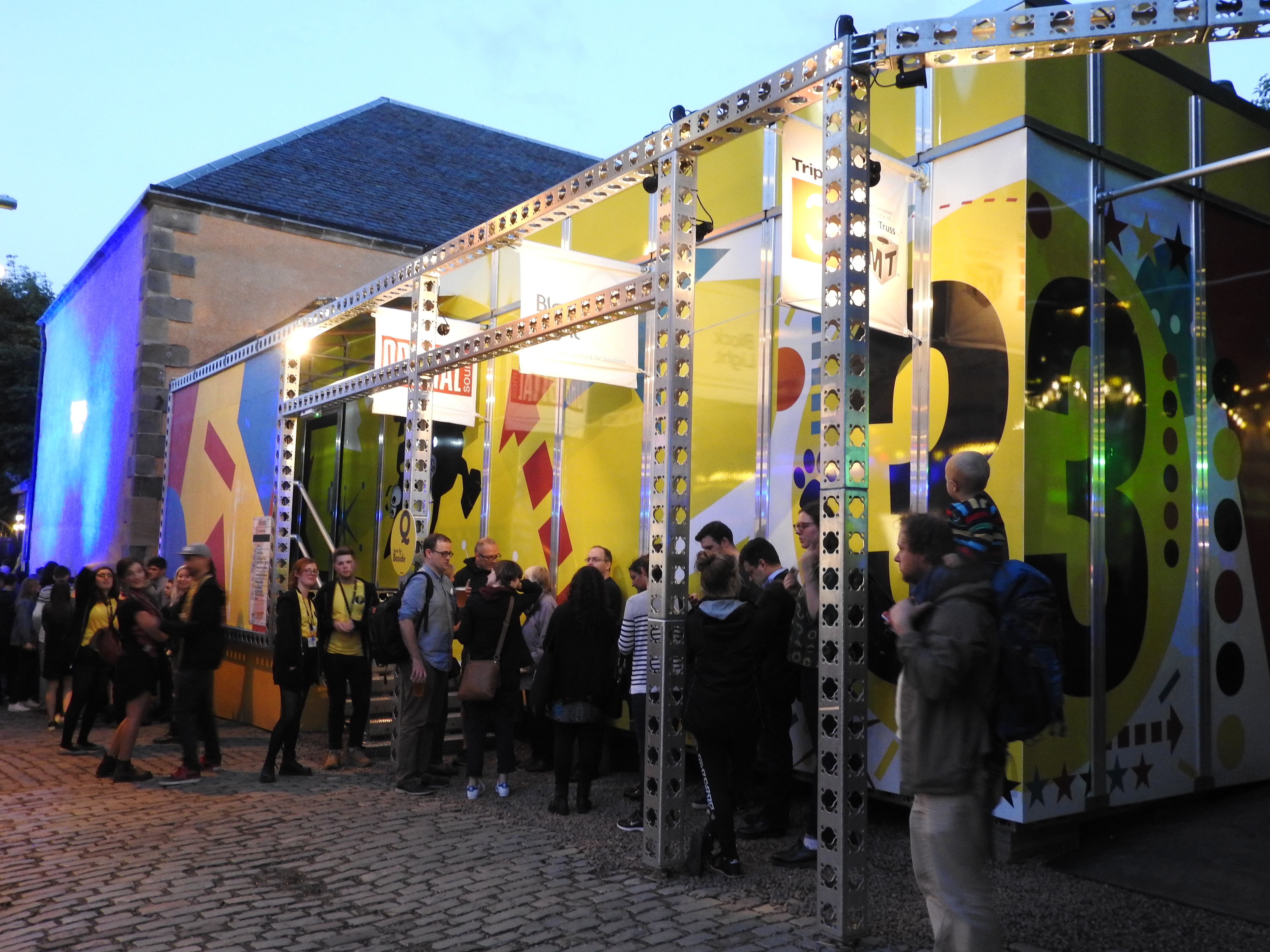 Not a tent, better than a sea container
With our knowledge of the UK performance festival scene Triple E understands traditionally semi-permanent or temporary performance venues are of a soft sided variety such as circus big tops and Spiegel tents or they are often converted sea containers.  
However soft sided venues suffer from being hard to heat or cool and external noise, and sea containers are severely limited in height and over stage facilities such as lighting grids.
Our brief was to create a portable venue that felt like a permanent one. A venue that could be used summer or winter, and to expand in capacity when in its summer location to take advantage of the higher ticket demand. The venue had to have all the facilities of a normal small/medium venue, lighting grid over the stage with reasonable load capacity, easy access onto the stage for scenery, flexible seating arrangements, lighting, sound and AV provision with no external noise bleed and the ability to heat and cool efficiently.
Adaptable to client and performer needs
When in its London location the venue was required to operate as a day time rehearsal room and an evening performance venue offering flexible seating and layout options befitting a space and venue owner that specialises in new and challenging work.
Travelling north for the Edinburgh Fringe Festival the venue was required to expand in size to add more seats that could be sold at the high footfall location and to operate with a different auditorium layout.
Easy to transport
With the ability of our Modular Structural Systems to break down into either modules or individual components, structures can be optimised for transport and handling. Needing to travel from an enclosed carpark area in London and through a narrow archway in Edinburgh the venue operators chose to break the structure down into smaller segments.
Continual improvement
Triple E can continue to improve on the structure as originally supplied as part of our approach to continuous aftercare. Changes to external access, door locations and even the method of raising the roof have all been improved after changes required by the client. Triple E will always work with a client to change and improve where required or if their needs change.
Core details
Endlessly reconfigurable, the venue can be made bigger, smaller, or taller if required. If desired, we could even add a bar or dressing rooms on the roof!
Able to break down into parts no longer than 10ft, the entire structure can be transported through relatively small and constricted accessways.
The roof and walls are constructed from insulated composite panels installed with Triple E's own curtain wall system.
The venue has now travelled over 3,000 miles over its lifespan.
Modular build
Breaking down into small individual components both for easy transport and handling but also for changes to size and format of building.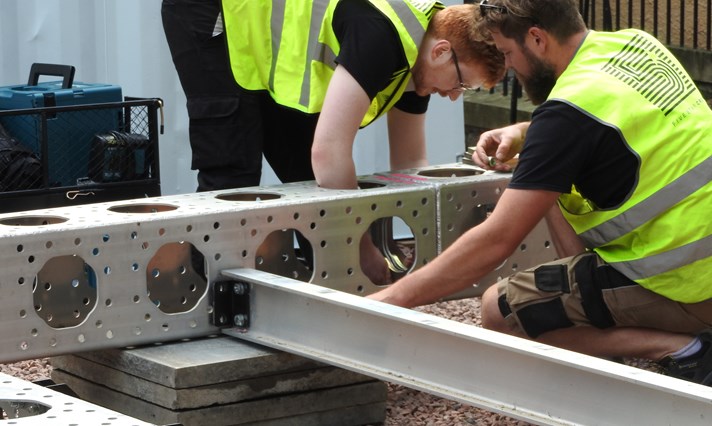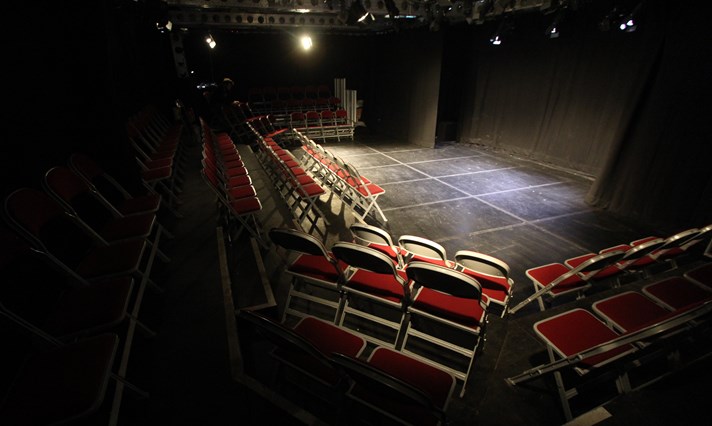 Improvements to the status quo
With a structure that combines the building with the grid for the positioning of the lighting any venue requires several hundred kg's of equipment can be put in place, a substantial improvement on the normal options.
ModTruss in motion
Unlike all other conventional systems Modular Structural Systems by Triple E enable special applications such as roofing sections to track up or along beams and columns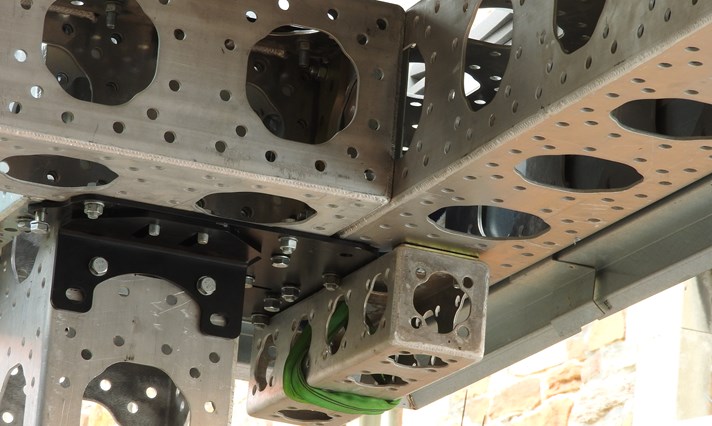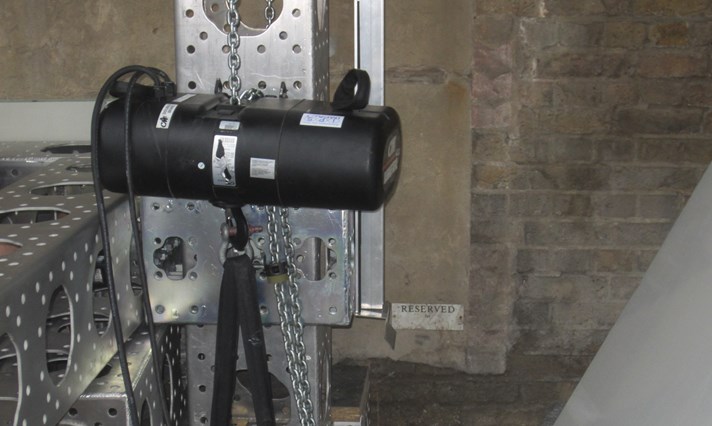 Easy Integration
Motors and winches have both been used to raise the roof panel along with lighting and sound equipment and stage tracking being added, the venue even has audience zone lighting that is built inside the ModTruss lengths themselves.  No matter your industry, Triple E can make your equipment work with our products.
View our Modular Structural Systems for all project solutions below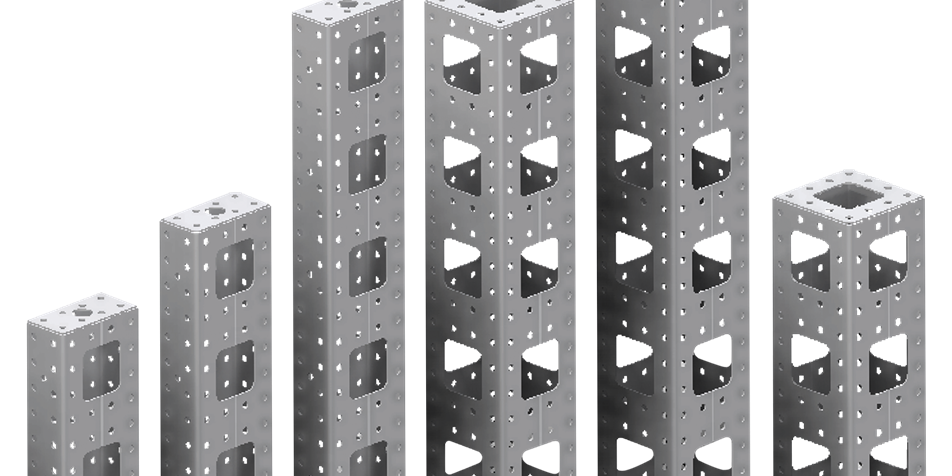 Build it with BEEEM™
The metric, Modular Structural System with toy-like simplicity, designed and manufactured in Britain.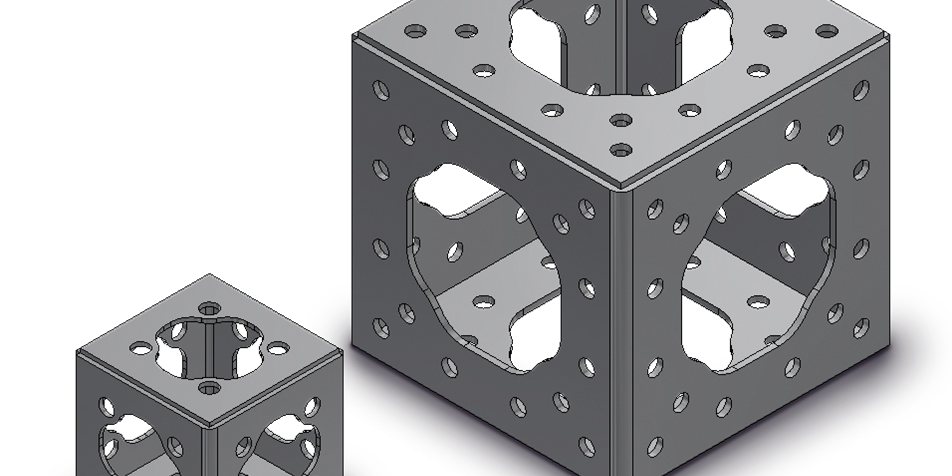 Make it with ModTruss®
The original, aluminium, imperial modular building system for multiple industries.